Mark Smith High School & Lasseter High School

1967-1970 Graduates & any Attendees thru June 1970
IN MEMORIAM
Edward J. Cagle, Sr.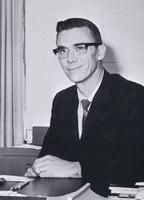 EDWARD CAGLE, SR
PRINCIPAL AT MARK SMITH HIGH SCHOOL
Services for Edward James Cagle, Sr. will be held at 11 A.M. Saturday, January 23, 1999 in Gray United Methodist Church with burial in Riverside Cemetery. Cagle, 74, died Wednesday, January 20, 1999. He received a bachelor's and master's degrees from Mercer University and an EdS degree from Georgia State University. An Army veteran of World War II, he was a former English teacher at Lanier Junior High School and Georgia Military College. He was an assistant professor at Georgia College and principal at Alexander IV Elementary School, Mark Smith High School and Jonesco Academy in Gray. He was retired from work for the Bibb County Board of Education as director of personnel. He was a member of the Georgia Retired Teachers Association, Bibb Association of Educators and Georgia Association of Educators. He was a member of Gray United Methodist Church, former chair of the administrative council, former trustee, adult choir. Fellowship Sunday School Class and Thursday Prayer Watch Group.
Survivors include his wife Sadie Cagle, children, Ed Cagle, Jr. of Ocala, Florida, Ray Cagle of Chesapeake, Virginia and Jeannie Waters of Macon, and six grandchildren.
The family will receive friends from 6 to 8 tonight in Bridges Funeral Home, Gray, and may be contacted at Turner Woods Road, Gray. Memorials may be made to Gray United Methodist Church Organ Fund, P.O. Box 416 Gray 31032.