Mark Smith High School & Lasseter High School

1967-1970 Graduates & any Attendees thru June 1970
IN MEMORIAM
Robert Glenn Robinson - Class Of 1968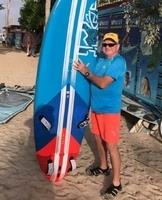 Robert "Glenn" "Surf Bum" Robinson
August 24, 1947 - March 3, 2018

Macon, GA- Let me tell you a "quick" story, am I coming in? Robert "Glenn" "Surf Bum" Robinson was born August 24, 1947. He joined the Naval Reserve at the age of 17 and retired in the early 90's. He was a Vietnam Veteran as well as an avid scuba driver. He retired from AT&T after 35 years of service. He enjoyed sharing his travels, and military career with people. He passed away Saturday March 3, 2018.
He is survived by his maternal Aunt Francis Hastings, and her daughter, and son Steve Hastings. He is also survived by his best friends: Starla, Amber, Mark, Dennis, Annie, Erika, and his grandson David.
A celebration of his life will be held at Buffalo's Southwest Cafe on Zebulon Road. Friday, March 9th from 5 - until on the patio.
http://www.legacy.com/obituaries/macon/obituary.aspx?pid=188400941