Mark Smith High School & Lasseter High School

1967-1970 Graduates & any Attendees thru June 1970
IN MEMORIAM
Dohnna Collins (Boyajian) - Class Of 1968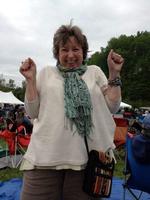 Dohnna Collins Boyajian, 67, of Ninety-Six, SC, passed away July 2, 2018, after a long and courageous battle with cancer. Dohnna was born on September 15, 1950 in Macon, Georgia, to the late Janet Kelly Collins and James O. Collins.
She was a graduate of H. S. Lasseter High School and graduated from Georgia College with a Bachelor of Science in Art and attended Georgia State University. While living in Macon, Dohnna taught high school art in the Georgia Public School system and at the Museum of Arts and Sciences. Over the years, she had applied her training and background as a self-employed commercial interior designer. She has lived and worked throughout the United States and has designed interior commercial space for Mobil Corporation, Random House, America On Line, Public Broadcasting Corporation, The Schinnerer Group and Hyatt Hotels. She also taught Interior Design several years at our Piedmont Technical College.
Dohnna was very involved in her community serving as past president of the Greenwood Artist Guild, board member of the Arts Council of Greenwood County, and co-founder and planning committee member of Greenwood's "First Friday in Uptown". She donated interior design services during the renovations and build-out of the Arts Center at the Federal Building, Greenwood Community Theatre, The Museum and the Ninety-Six Visitors Center. Her drive, support, and endless energy were instrumental to The Arts Center, The Greenwood Artist Guild, Greenwood Studio Potters, The Museum's All Fired Up Clay Camp, monthly art shows at Howard's on Main and every venue in Greenwood that promoted the arts. She also mentored and promoted the talents of many artists in our community. Proud of her heritage, she was also a member of the DAR.
She was a founding member and past officer of the Greenwood Area Studio Potters, Founder of Heritage Trail Pottery Tour and Sale for GASP, Former owner of Hands Gallery, founding member of Empty Bowls for GASP and the Greenwood Soup Kitchen, Founder of the Multi Guild Art Show and Showcase, Founder of "All Fired Up" Pottery Camp for Children at the Greenwood Museum, former member of pARTners in Clay. In 2012, she was a recipient of the Women's Leadership Council Catalyst Award and in 2014 she received the Guild Dedication Award from the Arts Council.
An accomplished ceramic artist, she had works in many private collections. She will be remembered and missed by many.
Surviving is her husband, John Boyajian, of Ninety-Six, SC; a son, Zane Keator (Terra) of Waterloo, SC; step-son, Ryan Boyajian of Denver, CO; sisters Debbie Collins Wicker (Mark Otto) of St. Augustine, FL; Denise Collins of Macon, GA; aunt and uncle Gwyn and Walter Mattison, Austin, TX; three step-granddaughters, several nieces, nephews and cousins and brother-in-law Jim Boyajian (Marianne).
A Celebration of Life will be held July 28, 2018 from 3:00-6:00 p.m. at the Arts Center at the Federal Building, 120 Main Street in Greenwood, SC.
No flowers please, but remembrance donations may be made to the Greenwood Humane Society, P. O. Box 49776, Greenwood, SC 29649 or the American Cancer Society
http://www.indexjournal.com/obituaries/dohnna-collins-boyajian/article_f196c2e5-ab40-576e-ab78-b3e1771260f9.html?utm_medium=social&utm_source=facebook