Mark Smith High School & Lasseter High School

1967-1970 Graduates & any Attendees thru June 1970
IN MEMORIAM
William Terrell Maddox - Class Of 1969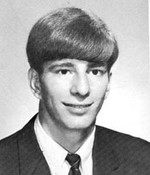 Terry Maddox, age 68, of Dublin, passed away on Thursday, January 31, 2019.
Mr. Maddox was a retired business owner after operating A-1 Tree Service for many years. He was preceded in death by his parents, Buck and Katherine Maddox.
Survivors include his wife, Gail Maddox, of Dublin; daughters, Amy Maddox Smith (Stevens), of Houston, TX and Katie Maddox, of Dublin; grandson, Liam Nicholson, of Macon; and sister, Patsy Jackson, of Macon.
A private Memorial Service will be held at a later date.
https://www.townsendfuneralhome.com/notices/Terry-Maddox/send-flowers