Mark Smith High School & Lasseter High School

1967-1970 Graduates & any Attendees thru June 1970
IN MEMORIAM
Ernie Seckinger ((former Class Of 1968))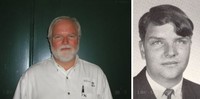 Obituary for Mr. Ernest Wardlaw Seckinger Jr.
Cochran Funeral Home of Hiawassee announces memorial services for Mr. Ernest Wardlaw Seckinger, Jr., age 67, of Hiawassee, who passed away on Saturday, September 2, 2017 in Chatuge Regional Medical Center in Hiawassee.

Mr. Seckinger was born in Savannah, Georgia, and had lived in Hiawassee for the past 10 years, moving here from Daphne, Alabama. He attended Union Hill Methodist Church. Mr. Seckinger had been an archeologist for the U.S. Army Corps of Engineers.

Surviving family members include loving family members: his wife, Betty Shook Seckinger, of Hiawassee; son and daughter-in-law, Eric and Amanda Seckinger; son, Chris Seckinger; sister, Charlotte Seckinger Lord; brothers: Andrew Seckinger, David Seckinger, and Peter Seckinger; and one grandson, Zachary Quintero.

Memorial services for Mr. Seckinger have been scheduled for Wednesday, September 6, 2017, at 2:00 p.m., to be held at Union Hill Methodist Church. The family will meet with friends on Wednesday for one hour before the memorial service.

Flowers are being accepted; however, if you wish to do so, memorials may be made to Friends of the Towns County Library; Towns County Historical Society, or to the charity of your choice.

Arrangements have been entrusted to the care of Cochran Funeral Home of Hiawassee. Please share your condolences and fond memories of the family online at www.cochranfuneralhomes.com.
http://www.cochranfuneralhomes.com/obituaries/Ernest-Seckinger/#!/Obituary