Mark Smith High School & Lasseter High School

1967-1970 Graduates & any Attendees thru June 1970
IN MEMORIAM
Bill Meeks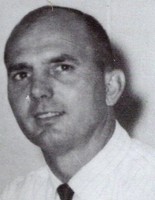 Born: September 10, 1928
Death: September 30, 2017
Bill Meeks, 89, of Macon, passed away peacefully of natural causes on Saturday morning.
Mr. Meeks was a coach and administrator in several schools in both the GHSA and GISA associations. Through a great passion for education and athletics, Mr. Meeks touched many lives in a career spanning six decades. Mr. Meeks is survived by his loving wife of 65 years, Mary Elizabeth Deloney Meek; three adult children, Carol Denise Meeks (Aaron Butler), Patricia Anne Meeks (John Woodard), Billy Meeks, Jr. (Bernadette Montez Meeks); eight grandchildren; and preceded in death by one grandson, Ashley Joseph Pittman. Mr. Meeks also leaves behind twelve great grandchildren. Also preceding Bill in death were his parents, Bryant A. Meeks and Lola Alderman Meeks and an older brother Bryant (Junior) Adams Meeks.
A graveside service for Mr. Meeks will be held at 11:00 AM Tuesday, October 3, 2017, at Riverside Cemetery in Macon.
http://www.townsendfuneralhome.com/sitemaker/sites/Townse2/obit.cgi?user=52873153_BMeeks