Mark Smith & Lasseter High Schools

1967-1970 Graduates & any attendees through 1974
IN MEMORIAM
Minton Williams, Sr.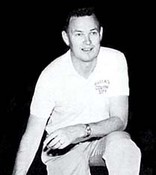 MINTON WILLIAMS, SR.
COACH AT MARK SMITH HIGH SCHOOL
APRIL 5, 1930 - FEBRUARY 17, 2005
Mr. Williams, son of the late James Eugene and Margaret Tinker Williams, was born in Macon and lived here most of his life. He was a graduate of Lanier High School and the University of Georgia, receiving his Masters Degree from Mercer University with a six year certificate. He was a U. S. Army Infantry Veteran serving during the Korean Conflict attaining the rank of 2nd Lieutenant.
Mr. Williams began a successful coaching career at Dublin as the Head Football Coach of the Irish and led them to State Championships in 1959, 1960 and 1963, finishing with an overall record of 58-9-3. He then became Head Football Coach and Athletics Director at Mark Smith High School in Macon from 1965 to 1970. Mr. Williams finished his career in athletics serving as the Bibb County Athletics Director from 1970 to 1988. During that time, Bibb County schools won seventeen State Championships. Mr. Williams was inducted into the Macon Sports Hall of Fame in 2003.
Mr. Williams was National Volunteer Director for the American Red Cross and served for more than twenty years on the Local Board. He also served on the Board of Sav-A-Life and as Chairman for ten years. For twenty-seven years, Mr. Williams served on the Board of Girl Scouts and was a volunteer teacher at Paul Anderson Youth Home. He was a member of Christ Chapel.
Survivors include his wife, Sue Morris Williams of Macon; his daughter, Patricia Williams Dudley of Macon; his son, Minton E. Williams, Jr. of Jonesboro, TN; four grandsons, Thomas Dudley, Clint Williams, Ben Williams, Brad Williams;six great grandchildren; his brother, James Williams, Tempe, AZ.
From the Mark Smith Telstar, November 3, 1965
Minton Williams was born in Macon, Georgia. He attended Lanier High School where he was captain of ROTC in his senior year. While at Lanier, Coach Williams was very active in sports, participating in basketball and baseball. Aside from lettering in both of these sports, he was on the Allstate basketball team.
After graduating from Lanier, Coach Williams went to the University of Georgia where once again he was on the varsity basketball and baseball teams.
Williams first started his coaching career at a high school in Canton, Georgia. Here he was an assistant coach in football, the head girl's and boy's basketball coach and the head baseball coach.
In 1955, Coach Williams left Canton for Dublin, Georgia. For five years he was an assistant coach in football and head coach in both boy's and girl's basketball and golf. Finally in 1959, Minton Williams became the head coach of the Dublin Irish. In his first two years as head coach, 1959 and 1960, he won the state championship. Coach Williams said that winning these state championship games were the biggest highlights of his entire coaching career.
Mr. Williams is a man who believes in his players giving 100% all of the time. In turn, he believes in the coaches giving their best to the boys. This seems to be the winning combination for him as he boasts a career record of 60-9-3, which is very respectable to say the least.
Williams has much to report about the Bulldogs saying even though his team is inexperienced, they have made tremendous progress since August. He also added, "Spirit has had a great deal to do with what this team has done this year." When asked if he thought the Bulldogs could remain undefeated, he replied, "If the team is willing to pay the price and play to their potential, I think we have the chance. We do have our toughest games coming up, though, and the going may get rough."
He went on to say that he was very happy to be at Mark Smith and pleased with the Bulldog's record this first season.