Mark Smith High School & Lasseter High School

1967-1970 Graduates & any Attendees thru June 1970
IN MEMORIAM
Danny Christopher Franklin - Class Of 1967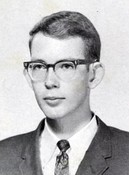 Daniel Christopher Franklin
February 11, 1949 - August 29, 2017
Waycross, GA- Daniel Christopher Franklin, 68, went to be with his Lord and Savior on Tuesday, August 29th, 2017 in Waycross, Georgia where he was a nursing home resident at Baptist Village.
A Celebration of his life will be held on Friday, September 8, 2017, at 11 AM, in the chapel of Macon Memorial Park Funeral Home with Dr. Scott Dickison, pastor of First Baptist Church of Christ in Macon officiating. Burial will be in Macon Memorial Park Cemetery.
The family will greet friends from 5 until 7 PM on Thursday evening, September 7, at the funeral home.
Mr. Franklin was born in Macon, Georgia to the late John Benjamin Franklin and Catherine Maxwell Franklin.
Dan enjoyed history and was a history major at Bob Jones University. He had an excellent memory for events, dates, and facts that he could share in such an interesting way. He especially liked to read about Civil War history and knew so many details about well-known battles and generals.

As a child, he paid close attention to what the adults were talking about, and so he became a repository for family stories and memories. We could always ask him to tell us more about our grandparents and great grandparents, and he was an excellent source of information! In his college years, he included his own original "family cartoons" in his letters to the family. They were hilarious and captured a lot of what really went on in the Franklin family as we were growing up!
He worked in radio at Z108, WDEN, and WNEX and also did some work in television. He had an excellent recording voice, and his voice was used in some of the commercials. When he played music all night for radio, his on-air name was "Dan Blackburn."

Dan was a member of First Baptist Church of Christ in Macon, and loved his church! He gave his heart to the Lord as a child, and his faith has been strong and firm through these last years of his failing health.

He is survived by his sister, Mary Anne Perdue (Kim) of Howell, MI and his younger brother John "Mark" Franklin of Chattanooga, TN. as well as his nephew David Alan Perdue (Bridgette) and their children, Peyton Perdue, Matthew Perdue, Jon Perdue, Hunter Bendele of Nitro, WV; nieces Dr. Robbyn Anand (Anand) and their children, Keertna Anand, Harini Anand of Ames, IO, and Joni Charlene Langenberg (Dan) and their children, Ryan Langenberg, Gavin Langenberg, and Lydia Langenberg of Zionsville, IN.

Visit www.maconmp.com to express condolences.

Macon Memorial Park Funeral Home and Cemetery has charge of arrangements.
Published in The Telegraph on Sept. 3, 2017