Mark Smith & Lasseter High Schools

1967-1970 Graduates & any attendees through 1974
IN MEMORIAM
James Robert "Bobby" Boren - Class Of 1968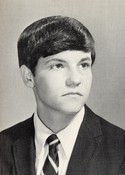 James Robert "Bob" Boren -ALBANY
The funeral service of Chief Bob Boren, 57, of Albany, Georgia who died Wednesday, February 27, 2008 will be conducted at 11A.M. Saturday at Kimbrell-Stern. The Rev. Walter Flint, Dr. Andy Goode both of Albany will officiate the service. Chief Don Cheek will give the Eulogy. Interment will follow in Crown Hill Cemetery.
Born June 14, 1950 in Hopkinsville, Kentucky and a Macon, Georgia native, he was a graduate of Mark Smith High School in Macon. After graduation he joined the United States Marine Corps and was attached to Naval Security Group. He started his law enforcement career with the Bibb County Sheriff's Department, then moving his family to Albany in 1988 to become the Assistant Police Chief for seventeen years. In 2004 he was appointed Interim Chief. Chief Boren retired in March of 2006 after serving thirty-three years in law enforcement. He then returned to work with Beauchamp Law Firm as Chief Investigator and Law Firm Administrator.
Chief Boren received a Criminal Justice Degree from Macon College and a Bachelor's Degree in Criminal Justice at Brenau University in Gainesville, Georgia and a Master's degree in Public Administration from Georgia College and State University in Milledgeville, Georgia. Chief Boren was a graduate from the F.B.I. National Academy / Session 148 and was professionally involved with the Georgia Association of Chiefs of Police, Georgia Chapter FBI-Na Associates, International Association Chiefs of Police, International Association Bomb Technicians and Investigators, SOWEGA Sheriff's and Police Intelligence Unit, Chairman 1993, Georgia Police Accreditation Coalition, Chairman 1991, Peace Officers Association of Georgia, Fraternal Order of Police, Albany Chapter, Police Benevolent Association, Flint River Chapter, U.S. Attorney's Local Law Enforcement Coordinating Committee and Georgia State Intelligence Network. Chief Boren was involved with charitable organizations. He was a member of the Dougherty County Rotary Club, Board of Directors, Albany-Dougherty Historic Preservation Commission, March of Dimes, Greater Sowega Division, Chairman, Albany Association of Retarded Citizens, Board of Directors, Boy's Club of Albany, Board of Directors, Goodwill Industries of South Georgia, Inc., Board of Directors, Leadership Albany Class of 1989-1990, Dougherty County Child Abuse Task Force, Extended Day Care Program, Board of Directors, Liberty House of Albany, Board of Directors, Leadership Albany Alumni Association, Board of Directors, Dixie Youth Baseball National League, Board of Directors, The Walter H. Burt American Legion, Post 30 Executive Board and The Lily Pad, Board of Directors.
Pallbearers are Mickey Pearce, Hayes Cook, Ty Solis, Foy Shemwell, Gregg Creech, Barry Townsend, Tim Hannington and Jimmy Jones.
Honorary Pallbearers are all Law Enforcement Officers. -Surviving within his loving family include his wife, Priscilla Rackley Boren; son, James Beaumont (Beau) Boren and his wife Melissa of Macon; daughter, Amanda Faith Shiver of Pelham; son, Rackley Thomas Boren of Atlanta; grandchildren, Jordan Bryce Pollock, Anthony Eugene Hutto, Harley Kathryn Boren, Jacob Bradley Boren and Abigale Marie Boren; brother, Thomas Garner Boren and his wife Patricia of Atlanta; and his mother-in-law, Nelle Kathryn Rackley of Camilla. -Honorary family: Bob Beauchamp, Brocky Brock, Larry Clark, Larry Cook, Gene Drew, Ken Hodges, Russell McDonald, George Negrea, Blake Raney, Bill Snowden and Mrs. Imanell Gable. He was preceded in his death his parents, Virgie Witherspoon Boren and James Ollie Boren, a son, Robert Bradley (Brad) Boren and a brother, Joel Abner Boren.
The family will receive friends from 6:00 until 8:00 P.M. Friday at Kimbrell-Stern Funeral Directors.
Published in The Telegraph on 2/29/2008