Mark Smith & Lasseter High Schools

1967 - 1970 Graduating Classes & all MSL attendees
IN MEMORY OF
John Craig "Sky" Hertwig - Class Of 1970 VIEW PROFILE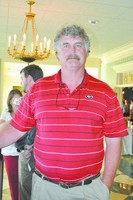 John Craig "Sky" Hertwig January, 1952- May 30, 2012 -ATHENS - John Craig "Sky" Hertwig passed away May 30th, 2012 at St. Mary's Hospital in Athens, Georgia following a brief illness. -Craig was born January 15, 1952 in Columbus, GA to Edward J. Hertwig Jr. and Merritt Bell Hertwig, both deceased. Craig graduated from Mark Smith High School in Macon, GA and went to the University of Georgia on a football scholarship. He was All- American and All SEC for UGA; and a third round Detroit Lions draft selection in the NFL and later played for the Buffalo Bills. He was inducted into the Macon, GA Sports Hall of Fame. -Craig was the owner of the Fifth Quarter, Sky's Place, the Nowhere Bar and other local establishments in Athens, GA. He was an avid golfer who enjoyed competing in state and national tournaments as well as playing on international courses such as St. Andrews in Scotland. -Above all, Craig was a loyal Georgia Bulldog player and fan. He traveled the SEC in his Bulldog RV, attended men's basketball games always cheering from his seat in section J. and proudly wore his red and black! -Craig is survived by his brother, Ed Hertwig (Camilla) of Greenville, SC; two sisters, Merry H. Johnson (Hunter) of Macon, GA, and Willa Hertwig of Santa Rosa Beach, FL; nephews, Rob Patterson (Lynne) of Macon, GA, Jay Hertwig (Leslie) of Greensboro, NC, David Hertwig (Carrie) of Greenville, SC and Greg Hertwig (Katie) of Greenville, SC; one niece, Marci Hipp of Macon, Ga. Craig is also survived by seven great nieces and two great nephews as well as his dog, Cleo. -A memorial service is planned for Saturday, June 2nd at 1P.M. with visitation immediately following at Lord and Stephens, WEST. -In lieu of flowers, the family requests donations be made to Craig Hertwig, "The Sky Spirit Award" to be given to a UGA student. The fund is at the Oconee State Bank, P.O. Box 205, Watkinsville, Georgia 30677 or can be dropped off at any Oconee State Bank. -Lord and Stephens, WEST, is in charge of arrangements.
Published in The Telegraph on June 1, 2012
Athens icon 'Sky' Hertwig dead at 60
ATHENS — An Athens icon has died.
Craig Hertwig, better known as "Sky" around Athens, passed away at about 6 p.m. Wednesday at St. Mary's Hospital, family members confirmed. He was 60.
Ed Hertwig said his brother died of heart failure. Sky was actually admitted to the hospital on Tuesday evening and "died in less than 24 hours." his brother said.
Funeral arrangements are being handled by Lord & Stephens (West) of Athens, 1211 Jimmie Daniel Road, Bogart, GA 30622. There will be there service Saturday at 1 p.m.
Hertwig, a Macon native, at 6-foot-8 was unusually tall for a football player, hence his nickname. He starred for the Bulldogs as an offensive tackle from 1972-74 and earned All-America honors from The Associated Press as a senior. He was drafted in the third round by the Detroit Lions in 1975 and played three seasons in the NFL before retiring after getting traded to the Buffalo Bills in 1978.
Hertwig returned to Athens and forged a career as a nightclub owner. Bars he owned and operated were some of the most popular in Athens, including The Fifth Quarter, Sky's Place and The Odyssey, which today is known as The Nowhere Bar. When not downtown running one of his establishments, Hertwig could often be seen jogging on Milledge Avenue and in Five Points. UGA legend Dan Magill referred to him as the "Giant Jogger." He was also a staunch supporter of Georgia men's basketball and was always present at games in the first seat next to the tunnel in Section J at Stegeman Coliseum.
"It's sad," said Jeff Dantzler, a longtime Athens radio personality and writer. "He was very well liked by a lot of folks and a lot of people are very sad. He was an Athens icon. Loved the Dogs."
Here's some remarks from Vince Dooley, Hertwig's coach at Georgia and a longtime friend:
"Certainly we're all saddened by the sudden loss of Craig, who was a great football player, a great fan and a great supporter of all the athletic programs at Georgia. Our deepest sympathy goes to his family and friends.

"Obviously, Craig was nicknamed 'Sky' because of his height. During his playing days, he was really tall for a lineman. I actually had gone to see another player on another high school team when I saw this big ol' guy jumping around. He was kind of under the radar but that eventually led to us signing Craig.

"Because of his size, he was not ready to play as a freshman and we redshirted him," Dooley said. "One of the things I remember most about Craig is how big a fan he was during that season he redshirted. He loved to get in the stands with the students and cheer for the team. I don't know if I ever had a player who was as big of a fan as Craig. He matured and became a great player ­ an All-American ­ played professionally and came back to Athens. He always continued his support of Georgia football and all Georgia sports in that social way. He was so well known all over Athens and will be missed."
---
Longtime Athens bar owner Sky Hertwig dies
Craig "Sky" Hertwig, a former NFL football player who was a bar owner in Athens for 32 years, died Wednesday at St. Mary's Hospital of heart failure.
Hertwig, a giant of a man — he stood 6 feet, 8 inches tall — who played offensive lineman at the University of Georgia before he was drafted by the Detroit Lions in 1975, apparently suffered a blood clot that went from his lungs to his heart, said longtime friend and golfing partner Brian Burke.
"He was as approachable and friendly as any guy I've ever known," said Burke, whose band the Normaltown Flyers played in August 2010 at Hertwig's tavern, the Nowhere Bar, when Hertwig celebrated 30 years as a bar owner.
The first bar he opened in Athens was the Fifth Quarter, located on West Broad Street, which became a popular hangout for University of Georgia students. He also owned Uncle Billy's and Sky's Place before opening the Nowhere Bar in 1994.
Hertwig knew the bar business in Athens, a place where many bars come and go.
"He rolled with the flow and would change his game plan every now and then. He was always able to make a go of it," said Burke, who golfed with Hertwig at the Monroe Golf & Country Club.
Hertwig, 60, established himself as an All-American on the offensive line for the UGA Bulldogs under former Coach Vince Dooley. After college he was drafted by the Detroit Lions in the fourth round and played in the NFL for three seasons.
As a bar owner, Hertwig earned the dedication of many of his employees.
"Sky was known and loved by many people," said Adam Payne, who worked eight years for Hertwig. "He was unmistakable and had a heart as big as his frame."
"I will miss him dearly. His loss comes as a shock. I would have stepped in front of a train for that man," he said.
Outside operating his bars and following UGA sporting teams, golf was one of his loves, and the golf course in Monroe was "his second home," Burke said. "We partnered in a lot of tournaments and actually won a bunch of cash."
"I've been on out-of-town golf trips with him to Europe. We had some wonderful times together," said Craig Hunter of Warrenton, who is president of the Monroe country club, and another of Hertwig's golfing partners. "He was always happy-go-lucky. He had a temper, but he'd forget the temper in about three seconds. He was a giant of a man with a big heart."
Hunter said he texted Hertwig Wednesday night, and thought it odd that he never received a reply.
"It hurts. We'll miss Sky," he said.
The Normaltown Flyers had played for Hertwig's clubs since he opened the Fifth Quarter, said Burke, who also described his friend as being "as big a (UGA) fan as you're ever going to meet. He would go to every game. I'm talking about away games, bowl games. He had a camper and a bunch of his friends and they went to every game."
Hertwig was a mainstay at basketball games, and he attended baseball games as well. He rarely spoke of his own playing days, though.
"It was always about current football. He wasn't one to keep bringing up when he played," his friend said.
Click here to see John Craig "Sky"'s last Profile entry.